Vietjet offers free tickets as part of festive promotion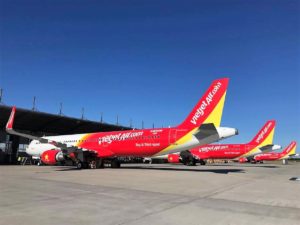 November 27 (TravelAndy): Vietjet is offering hundreds of free tickets and activities as part of its festival promotional campaign.
The airline's campaign is named "Love connection – Love is real touch" incorporates Asian countries and territories in Vietjet's network —  Vietnam, Japan, South Korea, Taiwan, Thailand, Singapore, Malaysia, Cambodia and China.
Participants throughout Asia can take part by sharing their love stories and expressing their desires and wishes to travel to one or more destinations. Stories should be in the form of an article of up to 1,000 words, accompanied by at least one picture. The love connection journey is specially designed for those who are passionate about travel and those interested in exploring and experiencing nature, culture and society.
The entry stories could be wonderful memories of travelling, sightseeing and experiencing culture or people. They could also be about a dream of travelling to countries never visited before.
The winners of "Love connection – Love is real touch" will be awarded with special flights to Asian destinations, connecting them with their loved one.
For families, Love connection is the chance for people around Asia to reunite with their families, such as students abroad, relatives, friends and etc.
For millennials, Love connection is the chance to reach new destinations or re-visit their favorite locations and it is also a great opportunity to explore and inspire the tourism trend of "living a local life", keeping life balance.
For travellers, Love connection is the chance to enrich life experiences as well as to realize their travel dreams.
For more information on the promotional campaign, click HERE.
As part of the campaign, Vietjet has commissioned six unique works of art at several airports and on its aircrafts, which bear bold and distinguished Asian culture identity.
The Vietnam-based Vietjet operates 60 A320, A321 aircraft with more than 385 flights daily, carrying more than 65 million passengers to date, with 103 routes covering destinations across Vietnam and international destinations such as Japan, Hong Kong, Singapore, South Korea, Taiwan, mainland China, Thailand, Myanmar, Malaysia and Cambodia.
Celebrate Scottish traditions this St Andrew's Day
|
Vilnius opens doors for Christmas visitors