Taj on Lonely Planet 'ultimate' list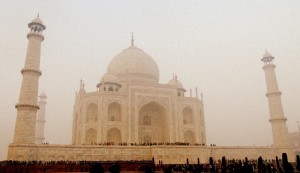 August 19 (TravelAndy): Taj Mahal features at number five in an ultimate travel list brought out by Lonely Planet.
"How do you achieve architectural perfection? Start with acres of shimmering white marble. Add a few thousand semi- precious stones, carved and inlaid in intricate Islamic patterns. Take a sublime setting by a sacred river, in jewel-like formal gardens. Apply a little perfect symmetry, and tie up the whole package in an outlandish story of timeless love. And there you have the Taj Mahal," Lonely Planet says.
Ankor Wat in Cambodia tops the list. "Even in a region as richly gifted with temples as Southeast Asia, Angkor is something out of the ordinary – a literal representation of heaven on earth, hewn from thousands of sandstone blocks and carved floor-to-ceiling with legends from the Ramayana, Mahabharata and Puranas," it says.
The others in the top 10 list are the Great Barrier in Australia (No.2), Machu Picchu i Peru (No. 3), the Great Wall of China (No. 4), Grand Canyon National Park in the US (No. 6), Colosseum in Rome (No. 7), Iguazú falls in Brazil/Argentina (No. 8), Alhambra in Spain (No. 9) and Aya Sofya in Turkey (No. 10).
Incidentally, Taj Mahal, which made its Twitter debut with the handle @TajMahal on August 15, already has more than 16,100 followers.
India woos expat Jews
|
Bangkok tourism feels blast heat