Tag: train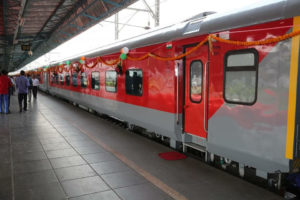 New Delhi (TAN): The Indian Railways has introduced another Rajdhani Express between Mumbai and Delhi, which was flagged off by Railways Minister Piyush Goyal on January 19 this year.
The third Rajdhani Express on this route, the train will connect Delhi's Hazrat Nizamuddin with Chhatrapati Shivaji Maharaj Terminus (CSMT) in Mumbai twice every week.
Starting its journey from Mumbai, the train will stop at Kalyan, Nasik, Jalgaon, Khandwa, Bhopal, Jhansi, and Agra Cantonment stations before arriving at Hazrat Nizamuddin station in Delhi.
Continue reading New Mumbai-Delhi Rajdhani Express hits tracks →