Tag: passport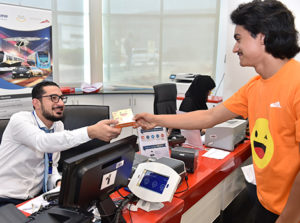 March 21 (TravelAndy): The Roads and Transport Authority (RTA), Dubai, has run a host of diverse activities in support of the International Day of Happiness, coinciding with 20th March every year. Also, passengers at the Dubai airport were surprised with General directorate of Residency and Foreigners Affairs on Tuesday welcoming them with the title 'Welcome to the Happy UAE' with a smiley face design stamp on their passports.
Events targeted the RTA employees, mass transit users, parking inspectors and drivers. Chocolate boxes were distributed to 1,600 employees, together with messages that inspire positivity and spread happiness & fun. Continue reading Dubai stamps passports with smiley on Happiness Day →

Since Donald Trump took charge as US President, I found a lot of people around me speculating whether getting a US visa was going to become more difficult. I had been wanting to visit the United States for some time now and last month, I decided to go there in 2017. So, I went ahead and got myself a ten-year B1/B2 visa, which is for visits related to tourism and business in the United States.
The process was long and I would say a little complicated. But I took on one thing at a time and things worked out pretty smoothly in the end.
Read on to find out how to score a ten-year US tourist visa with an Indian passport. Continue reading How to score a ten-year US tourist visa →

Your Indian passport is more powerful than you think. Here are 10 countries that offer visa on arrival to Indian passport holders.
Continue reading 10 countries offering visa on arrival for Indians →