Dubai stamps passports with smiley on Happiness Day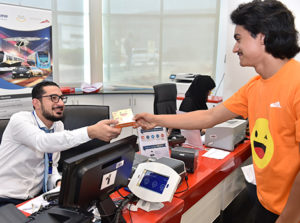 March 21 (TravelAndy): The Roads and Transport Authority (RTA), Dubai, has run a host of diverse activities in support of the International Day of Happiness, coinciding with 20th March every year. Also, passengers at the Dubai airport were surprised with General directorate of Residency and Foreigners Affairs on Tuesday welcoming them with the title 'Welcome to the Happy UAE' with a smiley face design stamp on their passports.
Events targeted the RTA employees, mass transit users, parking inspectors and drivers. Chocolate boxes were distributed to 1,600 employees, together with messages that inspire positivity and spread happiness & fun.
Events included the "Happiness Bus", offering free rides to the venue of the event, namely La Mer, Global Village, Dubai Parks and Hatta Dam. The RTA has also offered gifts and 100 free trips to users of Dubai Taxi arriving at Dubai Airport. Giveaways were also distributed to users of Dubai Metro at many stations including Union, Burjuman, Deira, City Center, Dubai Mall, Al Fahidi, Terminal 3, Damac Properties, Business Bay, Mall of the Emirates, and Jumeirah Lakes Towers. In addition, "Hello" cards and free lunch meals were distributed to 2500 bus drivers at Al Aweer Bus Depot.
During the Happiness Week, the RTA will distribute vouchers to 600 parking inspectors at the Customer Service Center of at Umm Al-Ramool.
Moreover, the RTA participated in several events organised by Dubai Smart Office and the National Program for Happiness And Positivity, including the happiness champs bus event targeting Dubai Government entities. The bus visited several places where events were organized to delight people and different community segments. As many as 500 Nol cards were issued and distributed for the Happiness Week in cooperation with Dubai Smart Office. The RTA has also participated in the City Walk Carnival, which included more than 200 people in a festive atmosphere where musical and artistic performances were held.
Dubai Taxi Corporation also conducted some activities via social networking sites, including the "Positive Contester", where customers savoured DTC's services while receiving their suggestions to improve services.
In addition, a workshop on happiness was held in cooperation with the National Program for Happiness and Positivity. The workshop included entertainment events targeting DTC's employees and cabbies who were offered gifts.
World's longest sandstone cave found in India
|
Starbucks debuts in Kolkata, opens three stores