Star Wars spoiler for ticketless travel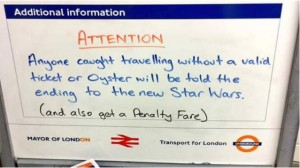 December 24 (TravelAndy): To ensure that all train commuters travel with a valid ticket, London has decided to playfully use the popularity of the film Star Wars: The Force Awakens.
Transport for London (TfL) has put up an alert message that threatens to reveal the ending of the film to any one who is caught travelling without a ticket.
Just a day after the film released, passengers reportedly spotted such spoiler messages in various stations in the districts of London.
"Attention. Anyone travelling without a valid ticket or Oyster will be told the ending to the new Star Wars film (and also get a penalty fare)," said the displayed message.
ICICI bank website to sell Indian rail tickets
|
Air Pegasus offers tickets at INR1999