SpiceJet: New flights from Hyderabad to three cities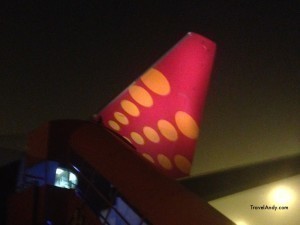 December 27 (TravelAndy): SpiceJet has launched eight new direct flights between Hyderabad and three cities – Kolkata, Pune, and Coimbatore – from January 1, 2019.
While the Pune and Coimbatore routes will get two flights each, the Kolkata-Hyderabad route will get four flights. Also, the option for a same day return trip to and from Kolkata could benefit business travellers.
Speaking of the new flights, Shilpa Bhatia, chief sales and revenue manager, SpiceJet, said, "Hyderabad is an important market for us and we are delighted to connect the city even better. The city, famous for its delectable cuisine and tourism, is also an IT hub. Our two new flights from the city to Kolkata offers same day travel option which will benefit thousands of flyers who frequent the city for business thereby boosting the state's growth prospects."
SpiceJet will use Boeing 737-800 aircraft on all the new routes.
According to the schedule, flights will depart from Hyderabad at 7.15 am and 4.45 pm, and land in Kolkata at 9.25 am and 6.55 pm, respectively. Return flights from Kolkata will take off at 9.55 am and 7.30 pm, and arrive in Hyderabad at 12.05 pm and 9.40 pm, respectively.
Flights for Pune will leave Hyderabad at 10.45 pm and reach Pune at 12.05 am on the next day, while the return trip will start at 12.35 am and arrive in Hyderabad at 1.45 am. The Coimbatore flight will depart from Hyderabad at 12.35 pm and reach Coimbatore at 2.10 pm, and take off from Coimbatore at 2.40 pm and arrive in Hyderabad at 4.15 pm.
The airline will operate 41 direct flights from Hyderabad starting January 1. It has also launched six new seasonal flights and frequencies to and from Bengaluru between January 5 and February 28, 2019.
San Francisco is TAP Air Portugal's new destination
|
Emirates opens new lounge at Rome airport