Scottish beef more popular than haggis, salmon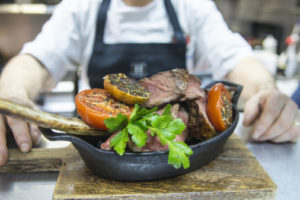 November 19 (TravelAndy): MOO-ve over porridge and haggis….research highlighted by VisitScotland shows that Scottish beef appeals to consumers more than traditional porridge oats, haggis and Scottish salmon.
A topic paper published recently by the national tourism organisation – which pulls together recent food and drink research from a variety of sources to explore the role of food and drink in the visitor experience – shows that Scottish Beef tops a list of Scottish food for its appeal, with 60% of consumers surveyed preferring beef over Scottish salmon (51%), porridge oats (40%), haggis (27%) and berries (27%).
The research also reveals that almost 6 in 10 consumers (57%) most look forward to having tea at a local café, while 56% said that eating fish and chips outside particularly appealed to them during a holiday. 
And whilst German visitors love a dram while visiting a whisky distillery as part of their trip (50%), Scots are most likely to prefer a good old British picnic (33%) in the great outdoors, whereas Australians favour a good night out (61%) while on holiday in the country.
The latest topic paper from VisitScotland's Insight Team has been welcomed by industry leaders, including Scotland Food & Drink. Published on www.visitscotland.org the paper uses information from a range of sources to explore the role of food and drink in the visitor experience.
Almost all – 92% of visitors – dine out during a holiday to Scotland and VisitScotland is encouraging tourism businesses to consider food and drink offerings as a way to significantly enhance the visitor experience and make Scotland a destination of choice for quality food and drink.
Other insights include:
87% of UK holiday-goers think that that their food and drink experience is important while on holiday.
When on holiday in Scotland, 43% of visitors speak to locals to guide and influence their choice of places to eat out.
Visitors believe that trying local food is an integral part of the visitor experience with 78% agreeing that they like to find out about local food and dishes unique to the destination when on holiday.
55% of visitors to Scotland try local food, while 46% try local drink.
86% of visitors from the US try local food.
With the range of food and drink opportunities available in Scotland, from dining out to visiting a whisky distillery, participating in a local food trail or attending a food and drink event, satisfaction with food and drink is also high amongst visitors, especially among international visitors.
Malcolm Roughead, VisitScotland Chief Executive said: "The latest insights from VisitScotland are taken from a range of sources and show, without a doubt, the importance of food and drink to Scottish tourism. Visitors spend around £995million on eating and drinking when they're on holiday in Scotland. Scotland is ideally positioned with its rich natural larder and world famous products like Scottish beef, Scottish salmon, haggis, whisky and gin, cheese and porridge oats, to continue to rise to the challenge and give visitors food and drink experiences to remember."
UK expects surge in Chinese tourists
|
Manipur's first cherry blossom festival