Ryanair winter flights boost for Irish tourism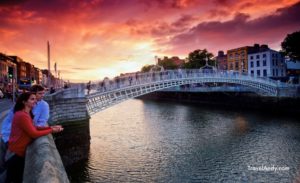 August 30 (TravelAndy): Tourism Ireland is expecting to see a spurt in the number of visitors following budget airline Ryanair's announcement of new flights from Munich and Stuttgart to Dublin this winter, as well as the extension of its winter service from Naples into summer 2018.
Niall Gibbons, CEO of Tourism Ireland, said the announcement was good news for Irish tourism, especially in view of the coming shoulder and off-season.
"We already work closely with Ryanair and we look forward to co-operating with them to maximise the promotion of these new services to Dublin. As an island, the importance of convenient, direct, non-stop flights cannot be overstated – they are absolutely critical to achieving growth in visitor numbers," he said. 
Mentioning that tourism from Mainland Europe had been performing well this year, Gibbons said: "Next week, we will launch our extensive autumn campaign – aimed at boosting late-season travel to Ireland from around the world. The period September to December traditionally yields as much as 30% of our annual overseas tourism business."
Kolkata-Bali quickest connection by AirAsia
|
Going to the Scottish International Airshow?