Tag: nature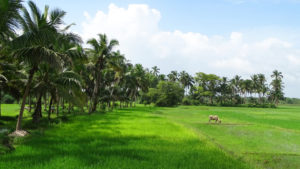 November 4 (TravelAndy): Kerala Tourism is promoting Vellur, a sleepy hamlet tucked deep away in the peaceful countryside of Kannur.
Visitors can experience panoramic vistas of green carpeted paddy fields and the centuries-old art and craft.
"A stroll through the flourishing fields lending your ears to the murmuring rice plants and bathing in the frigid waters of silver streams on a misty morning caters to the tastes of any ardent nature lover," says the Kerala Tourism website. "Besides its natural charm, the village is renowned for its rich heritage and culture and Shaaliya Porattu, the folk art form, showcases this at its best."  Continue reading Indulge in slow travel through Vellur in Kerala →

Western Australia amazed me, detoxed me and inspired me.
It is difficult to put into words the kind of experience this place has to offer. All I can say is, if you are thinking of going to Australia, think beyond the Gold Coast. And do consider the amazing west. It will blow your mind away.
Here are ten reasons to go to Western Australia. Continue reading Ten reasons to go to Western Australia →