Tag: slow travel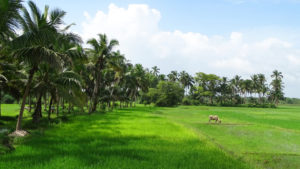 November 4 (TravelAndy): Kerala Tourism is promoting Vellur, a sleepy hamlet tucked deep away in the peaceful countryside of Kannur.
Visitors can experience panoramic vistas of green carpeted paddy fields and the centuries-old art and craft.
"A stroll through the flourishing fields lending your ears to the murmuring rice plants and bathing in the frigid waters of silver streams on a misty morning caters to the tastes of any ardent nature lover," says the Kerala Tourism website. "Besides its natural charm, the village is renowned for its rich heritage and culture and Shaaliya Porattu, the folk art form, showcases this at its best."  Continue reading Indulge in slow travel through Vellur in Kerala →

Once you are back from a two-week trip to Europe, it feels good to tell people back home you saw six countries, doesn't it?
But the part about the trip you'd rather not dwell on is that you could not spend more than an hour at the Louvre because you still had to see Eiffel Tower, the Montmartre and five other places by the end of the day. You also tend to skip the part about visiting St. Peter's Basilica but not finding enough time to go to the Vatican Museum to see Sistine Chapel.
In fact, you realise later that you spent more time travelling from one place to another than taking in a particular place, especially if you were doing the trip with a tour company that promised you the "highlights" of Europe. Continue reading Give slow travel a chance →