Starbucks debuts in Kolkata, opens three stores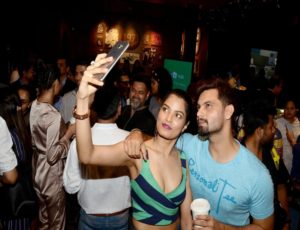 March 22 (Notintown.net): American coffee house chain Starbucks has finally opened its stores in Kolkata in a star-studded gathering yesterday.
Starbucks, which has kept its feet in Kolkata for the first time, opened three stores on the same day.
Kolkata has joined the list of Indian cities where 113 stores of Starbucks operates through a network of 1,700 partners.
Apart from newest city Kolkata, Starbucks has stores in Mumbai, Delhi NCR, Hyderabad, Chennai, Bengaluru and Pune.
Indian film director Arindam Sil, who was busy in chatting with his friends from Tollywood, clearly stated the absence of Starbucks in the city was the greatest grief of his life.
"Where ever I found Starbucks across the world, I had visited. I am a big fan of Starbucks…" Sil said.
He has also mentioned his tweet shared on Tuesday morning referring to the hoardings of Starbucks which were put up across the city.
His tweet reads,"The wait is finally over. A warm welcome. More so it's like shaking hands now."
Dressed in white shirt and a pair of jeans, Indian actress Rachel White did not miss the opportunity to be present at the Park Street store on the opening day.
Rachel, who has worked in both Bollywood and Tollywood, felt the opening of Starbucks in the city has become late.
Sharing her feelings, Rachel told IBNS, "Its great, I am very happy that it has finally come to our city of joy. I know people in Kolkata are always been the fans of tea and coffee, so I am sure its going to do very well here."
Rachel, who is a coffee fan and loves deserts, said "it is better late than never" for the coffee chain to make debut in the city.
The first store of Starbucks opened outside North America was in Tokyo in 1996.
It had suffered economic downfall in late 1980s but recovered well with the profits in California in early 1990s.
Music composer Neel Dutt seems to be very specific about the coffee beans.
Dutt, who is an espresso lover, said he would come down at Starbucks stores often to taste the Italian coffee.
Speaking about the opening of the store, Dutt said: "It is nice. Its a very daily coffee chain around the world. I like coffee. Starbucks is interesting coffee, its fine. We have nice coffee in south India too."
Chief Executive Officer of Starbucks, Sumitro Ghosh said: "Our aspiration is to delight our customers in Kolkata with the unique Starbucks experience that is built on three core fundamentals- our partners (employees), our stores and out coffee."
(Reporting by Souvik Ghosh)
Dubai stamps passports with smiley on Happiness Day
|
Airbnb China to disclose host & guest info to govt