Chefs celebrate Canada's 150th at 58° North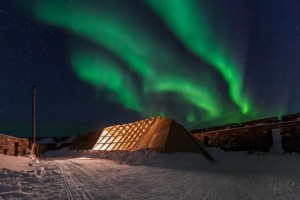 March 7 (Notintown.net): RAW: Churchill, a unique culinary and adventure experience in Churchill, Manitoba, in Canada, kicked off this weekend and will run through to March 11.
Created to serve the growing market of food tourists who may otherwise never think of visiting northern Manitoba, RAW: Churchill is a partnership of Frontiers North Adventures, the creators of the award-winning RAW: Almond pop-up restaurant in Winnipeg, Manitoba and Parks Canada.
This year, to commemorate Canada's 150th anniversary, three Canadian chefs— Mandel Hitzer, Emily Butcher and Gus Stieffenhofer-Brandson — have crafted a meal inspired by this Canadian milestone.
"Never before has a culinary experience like this been hosted in the Canadian subarctic," said John Gunter, president and CEO of Frontiers North Adventures.
"At RAW: Churchill, diners will enjoy a world-class meal underneath the northern lights on the exact same spot that the women and men of the Hudson's Bay Company would have more than 300 years ago, right within the walls of Prince of Wales Fort National Historic Site."
Part of the adventure is for guests to embark upon an official Tundra Buggy and travel across the frozen Churchill River to Prince of Wales Fort National Historic Site. Once there, with protection from weather and wildlife by the fort's 6.5 metre (21 foot) tall and 11 metre (36 foot) thick stone walls, guests experience fine cuisine and spirits in a heated transparent-roof 'pop-up' restaurant. Post-dinner, guests will complete their adventure with more northern lights viewing on the frozen Churchill river from the warmth and comfort of the Tundra Buggy.
"With references to ancient seafaring vessels and dog sleds and using typical northern building materials, the RAW: Churchill structure has been designed purposefully with a transparent roof to take advantage of the opportunity for guests to dine and enjoy the northern lights dancing overhead."
Tickets are on sale at www.raw-churchill.com. For details, you can call 204-949-2050.
Jet Airways & Fiji Airways ink codeshare deal
|
AirAsia India offers tickets from INR1499