Audio tour boost to tourism in Loch Earn, Scotland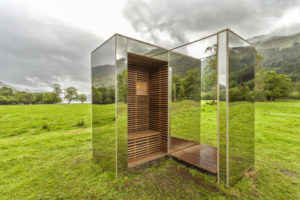 July 14 (TravelAndy): A new audio tour is set to bring art and architecture to life in the Loch Earn region.
The unique BLiSS trail links the villages of Balquhidder, Lochearnhead, Strathyre and St Fillans through a series of art and architecture installations.
Developed by the Loch Earn Tourism Information (LETi) Group, the trail received the Innovation in Tourism award at the 2018 Scottish Thistle Awards National Final in March. LETi has worked in collaboration to develop the new audio trail with Geotourist, which sponsored the category.
National tourism body, VisitScotland, hopes it will encourage even more visitors to explore and spend time in the region by following the innovative trail in the heart of Rob Roy Country.
The GPS audio BLiSS Trail Tour featured on the Geotourist app takes in a variety of artist and architect designed installations including ornamental features such as an Airliephant, a miniature mill house, stag, totem pole and old red phone box.
Geotourist has worked in partnership with the five national finalists in its sponsored category from the 2017/18 awards, with tours and trails currently in production in every region in Scotland.
Kim Proven, Chair of Loch Earn Tourist Information Group said: "Our latest collaboration with Geotourist has been fun in the making and it enhances the BLiSS trail story further. The new audio tour helps LETi to improve its BLiSS trail attraction, plot the trail's naturally beautiful location on the world map and talk to global audiences via mobile app and GPS technology. Geotourist – an innovative audio guide enabler – has given us the opportunity to collaborate with sculptors, students, business members and other partners who have recorded unique stories surrounding the art installations. Listen to a range of speakers including pupils and students aged 7 to 26 who volunteered to contribute in celebration of this tourism Year of Young People 2018. We look forward to welcoming more visitors to see our award winning innovative art trail and now to hear a variety of fascinating BLiSS trail stories too."
Shaon Talukder, CEO at Geotourist said: "The initiative physically draws visitors through the region ensuring that they can access all the sculpture and public art as a whole piece, while the Geotourist trail tour means that people can digitally immerse themselves in the tour, whether they are right in front of any of the pieces or on the other side of the world and listen to the stories in many cases shared by the artists themselves or local community members involved in the project. We are delighted that BLiSS won the Scottish Thistle Award and truly enjoy working with Kim, as we do with all the regional Thistle winners. Making great things happen is worthwhile and always easier through collaboration and we are proud to share all of their stories."
Neil Christison Regional Director at VisitScotland, said: "The BLiSS trail is a fantastic asset to tourism in the area and we hope this complimentary audio trail will inspire visitors to enjoy the fun and exciting installations along the trail as well as explore the surrounding area."
Source: VisitScotland
Sound and light shows to see in Normandy this summer
|
No free SIM cards for foreign tourists to India