AirAsia latest to ban Samsung Galaxy Note 7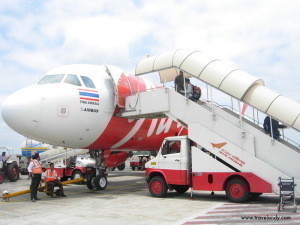 October 16 (TravelAndy): AirAsia has become the latest in the list of airlines to ban Samsung Galaxy Note 7 on their flights.
The prohibition from today midnight applies to all flights operated by the AirAsia India, AirAsia Malaysia, AirAsia Thailand, AirAsia Indonesia, AirAsia Philippines, Malaysia AirAsia X, Thai AirAsia X and Indonesia AirAsia X.
This announcement follows the US department of transport's ban on the device and reports of the replacement units catching fire.
The concern was raised when a Samsung Galaxy Note7 caught fire on board a Southwest Airline flight, which was about to fly from Louisville to Baltimore in the US. The flight had to be evacuated.
Already, the device has been banned in all USA flights and in Australian flights including Qantas, Jetstar, Virgin Australia, Tiger Airways. Singapore Airlines has also declared a ban on the device.
"In light of recent incidents involving battery issue with Samsung about its Galaxy Note 7 devices globally, travelling public and airlines are advised not to turn on or charge the mobile phone on board the aircraft," an advisory issued by India's aviation regulator Directorate General of Civil Aviation said.
Samsung has decided to stop the production of this unit, till further investigation is completed, said reports.
Tourism as usual after Thailand king's death  
|
Puducherry to develop own Marina Beach