Trekkers look to conquer largest desert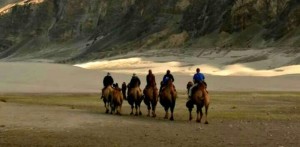 December 12 (TravelAndy): British explorer Mark Evans along with two of his Omani colleagues are setting off for a trek across Empty Quarter, the world's largest continuous sand desert, said reports.
The desert is located in the southern side of the Arabian peninsula.
Mark Evans, the 54 year old adventure traveller, is looking forward to trace the 1300 km stretch beginning from Salalah in southern Oman to Doha in Qatar, in approximately two months.
This route was first explored in 1930 by Bertrand Thomas, a British civil servant. Back then, the trek had several challenges and safety issues.
However, with the support of Oman and Saudi Arabia, Mark Evans and team have little chances of facing safety issues.
Two utility vehicles would accompany them, carrying water and necessary supplies. Four camels are being hired in order to facilitate some rest from time to time.
"It will be tough but we're all doing this because we love the simplicity of the desert lifestyle. Right now I'm just looking forward to getting started and lying out under the stars in my sleeping bag," said Evans.
Tribal tourism plan in Chhattisgarh
|
Thailand to ban overstaying visitors