Delta set to double flights to Edinburgh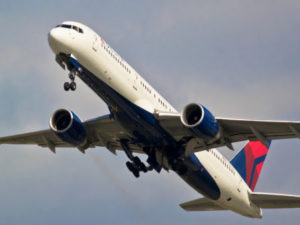 October 21 (TravelAndy): Delta Air Lines will double its flights from Edinburgh next summer by adding a new service to Boston's Logan International Airport, effective May 24, 2019.
Complementing the airline's existing daily service to New York-JFK, the seasonal Boston route will offer customers more travel options from Edinburgh to the United States, with two flights every day during the peak summer months.
The new Boston flight will operate in conjunction with Delta's joint venture partner, Virgin Atlantic, significantly boosting the airlines' network from Scotland. Delta has scheduled a 163-seat Boeing 757-200ER aircraft between Edinburgh and Boston, offering 16 fully flat-bed seats in the Delta One business class cabin, in-seat entertainment for every passenger, Wi-Fi access and free mobile messaging.
"Boston is our fastest-growing international hub and a daily service from Edinburgh in addition to our New York-JFK route responds to increased demand for travel to the U.S. and provides greater choice when it comes to planning trips for business or pleasure," said Roberto Ioriatti, Delta's Vice President – Trans-Atlantic. "More American tourists visit Scotland than from any other country – over half a million in 2017 – and with more than 2,000 extra seats each week between the U.S. and Edinburgh, Delta will help increase visitor numbers, contributing to the local economy."
Increased capacity from Scotland
Delta and Virgin Atlantic will jointly offer up to 25 weekly flights from Scotland to the U.S. in summer 2019, representing a capacity increase of 25% versus this year. The airlines' shared network includes:
Daily flights from Edinburgh to Boston and New York-JFK, operated by Delta.
Daily service from Glasgow to New York-JFK, operated by Delta.
Up to four weekly flights from Glasgow to Orlando, operated by Virgin Atlantic.
Last month Delta announced its longest-ever season between Glasgow and New York will operate during summer 2019, with over 9,000 extra seats available between the two cities over the peak season.
Delta's new nonstop flight between Edinburgh and Boston is scheduled as follows:
| | | |
| --- | --- | --- |
| Flight | Departs | Arrives |
| DL123 | Edinburgh at 10:55 | Boston at 13:02 |
| DL122 | Boston at 22:15 | Edinburgh at 09:25 (next day) |
Edinburgh is one of two cities to gain trans-Atlantic service to Delta's Boston hub next summer. The airline will add a new nonstop flight from Lisbon to Boston in May 2019. Delta also flies to Boston from London Heathrow, Amsterdam, Paris and Dublin, while Virgin Atlantic serves the city from Manchester and Alitalia serves Rome.
Iceland mulls capping tourist numbers
|
First global gastronomy tourism startup competition