Aged elephant free after 50 years in tourist slavery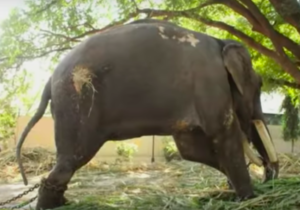 New Delhi (TAN): Gajraj, a 70-year-old elephant who served half a century as a tourist attraction, has finally retired.
After spending most of his life in chains at an Indian temple, Gajraj was rescued and later admitted to a recently-opened elephant hospital as its first ever patient. The hospital, by Wildlife SOS, is India's first, and one of the few elephant hospitals on the planet.
Working in poor conditions took a serious toll on Gajraj's health – he developed abscesses and wounds on his feet from standing for long hours, walking on paved roads, and giving rides to people. Reports said he was malnourished and dehydrated.
However, the hospital staff dedicated themselves in helping Gajraj put his miseries and traumatic experiences in the past, who is now both free and happily retired.
According to a report in LADbible, Kartick Satyanarayan, co-founder and CEO, Wildlife SOS, while speaking of his first anniversary last June, said: "A year has gone by since his rescue and he has grown much stronger with the constant care of his keeper and veterinarians."
The SOS Wildlife hospital, a 10,000sqft unit, contains the country's only elephant ambulance, 24-hour inpatient care, and other equipment. SOS Wildlife strives for the cause of animals through ten wildlife sanctuaries and centres in India, an anti-poaching wildlife crime enforcement unit, and 24-hour wildlife hotlines.
Brussels Airlines plans multiple services for summer 2019
|
Fans flock to 'Bird Box' house in California