Use your OLA app to ride tuk tuks in Liverpool, UK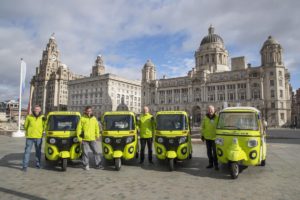 London (TAN): India-based ride-hailing company Ola is taking over UK streets with it entering the British market with an auto rickshaw service in Liverpool.
Ola UK has launched a fleet of bright green Bajaj and Piaggio autorickshaws or 'tuk tuks' in the city, with over 500 drivers in neon green jackets on board, media reports said.
The new service was recently rolled out in Liverpool's Merseyside.
"I have been driving passengers around the city today and have really enjoyed the chance to discuss the challenges that the community faces and how we can help with our new technology," Ola UK managing director Ben Legg was quoted by media reports as saying.
Ola tuk tuks on the streets of Liverpool. Picture from the company's official Twitter handle.
"We are celebrating bringing more travel and employment choices to Liverpudlians with our ride-hailing app with the help of the community choir," he added.
Ola asked passengers interested in free auto rickshaw rides to "hail one down" on the day of the launch.
Ola offered free rides to passengers on the day of launch. Picture from the company's official Twitter handle.
Ola's entry in the region is being hailed as a move to take on its competition Uber on an international level. Back home in India, the two ride-sharing companies together control the lion's share of the cab market.
Ola introduced its services in the United Kingdom in August last year with South Wales, which included Cardiff, Newport and Vale of Glamorgan. It is also present in cities such as Bristol and Exeter.
Have you ever hiked up a volcano? Do it at Camiguin in the Philippines
|
Nothing has changed with Brexit row, Scotland assures Europe