Taj Mahal fest on in Agra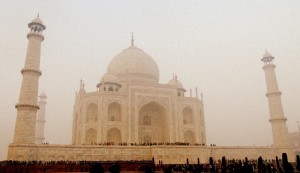 February 19 (TravelAndy): Uttar Pradesh started its annual 10-day Taj Mahotsav in Agra yesterday.
Taj Mahotsav is a celebration of the Taj Mahal, one of the wonders of the world and India's most popular tourism destination. Started in the year 1992, this festival will celebrate its 25th edition this year.
Hum Ek, Sanskriti Anek, meaning "Unity in Diversity" is the theme of this year's festival.
The event schedule includes traditional dance shows such Kathak, Kuchipudi and others, poetry recitals by eminent poets and litterateurs, performances by Shreya Ghoshal, Mohit Chouhan and Hariharan, standup comedy show by acclaimed Indian stand-up comedian Raju Srivastav and several other seminars and debates.
One of the major attractions will a performance by Grammy-winning Hindustani classical music instrumentalist Vishwamohan Bhatt, who will perform at the Fatehpur Sikri complex in Agra.
This festival not only showcases Agra's heritage to the world, but also translates into a cultural extravaganza.
Now, Cinque Terre entry will require tickets
|
Emergency train tickets introduced in South India