Stage set for Durga Puja celebrations in Kolkata, beyond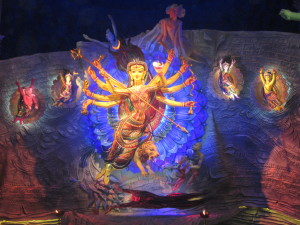 Kolkata, Oct 15 (IBNS/NITN): The east Indian city of Kolkata is in festive mood with the four main days of Durga Puja, the largest festival in the region starting Tuesday.
The celebrations have already started with the city decked up with lights and beautiful pandals. Hundreds of thousands of people — both locals and visitors — are throning the streets to see the pandals and lightings.
Big and small marques are set up across the state and beyond where Goddess Durga is worshipped. The festival is a celebration of the goddess' victory in her battle with the buffalo demon Mahishashur.
Themed marquees (pandals) with the Durga idols inside are the major attractions during this time. The themes could be as varied as global warming to Avatar, the blockbuster Hollywood film. Hundreds of thousands of people hop around various pandals during this time to see the lights, and temporary structures set up as part of the puja's theme. Often, these structures take months to build.
Revellers wear new clothes at this time and enjoy the holiday season catching up with friends and family and gorging on delicious food.
World's largest seafood market opens for public
|
Art installation attracts thousands in Western Australia