Sheep festival in Scotland seeks volunteers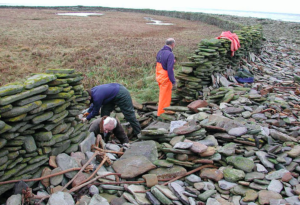 June 14 (TravelAndy): The North Ronaldsay Sheep Festival is seeking volunteers for the event that will take place from July 29 to August 10, 2018.
North Ronaldsay is the northernmost island in the Orkney archipelago in Scotland.
The volunteers will help rebuild a historic structure which is essential to the conservation of the rare, seaweed-eating North Ronaldsay sheep.
Said to be the longest drystone structure in the world, the Sheepdyke runs 13 miles separating the foreshore from the rich inland grazing of North Ronaldsay. From more details click here.
Under the guidance of local experts, dyke-building sessions will be held during weekdays of the festival along with a range of activities and fun events.
Adventure-seekers and bird watchers might also want to visit North Ronaldsay where there is evidence of Iron Age settlements. Visitors will find themselves in the flight path of migrating birds. There is also the possibility of seeing porpoises and dolphins.
The North Ronaldsay Bird Observatory has two volunteer vacancies at its base throughout the year. These are ideally suited to keen birdwatchers looking at a future in conservation or simply help out at the observatory while enjoying the island lifestyle.
Yukon Territory in Canada turns 120
|
Australia: Aboriginal tour group goes online