'New' Victoria Memorial sets 2017 date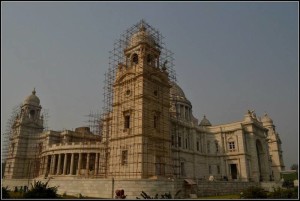 July 23 (TravelAndy): The iconic Victoria Memorial Hall in Kolkata is undergoing an elaborate makeover and intends to open in all its glory to visitors by March 2017, said reports.
After the renovation, it will serve as an open cultural space, allowing visitors access to parts which are not open to the public now.
This makeover will transform this Kolkata landmark into a unique combination of heritage, architecture and museum, Victoria Memorial Hall curator, Jayanta Sengupta told PTI.
The development program includes regularisation of cultural events on the premises and allowing visitors to all parts of this architectural marvel.
"The windows and the large red sandstone walls were hidden so far. But now you will be able to see it as we will hang paintings on glass walls," PTI quoted Sengupta as saying.
Victoria Memorial is usually on the top of the to-go list of places in Kolkata for tourists.
Automatic refund for cancelled trains
|
SpiceJet introduces EMI for tickets