ITINERARY: Weekend trip to Belum Caves (Andhra Pradesh, India)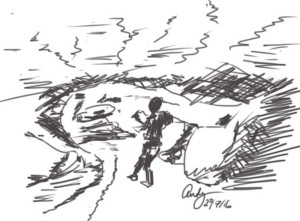 If you have seen the Borra Caves situated near Araku Valley and come to Belum Caves expecting something similar, you will be in for a surprise.
The longest cave in the Indian Subcontinent is different and will impress you with its unique and incredible geological formations.
A great place to visit for the geologically inclined, the cave has been formed by the constant flow of water and you will see beautiful water lines on the cave walls and the sedimentary rocks. The caves are known for the stalactite and stalagmite formations and spacious chambers.
Primarily made of black limestone, the cave has 16 different pathways including the main entrance. Of the 3,229-metre cave, around 1,500 metres is open to visitors.
The spectacular rock formations make great subjects for photographers.
The entrance fee to the cave is INR50 for Indians and INR300 for foreign visitors. The site is open seven days a week from 10am to 5pm. It takes around three or four hours to explore the entire cave.
Hyderabad, which is 319km away, is the closest metro city.
ITINERARY
Day 1: Unless you find a morning train from Hyderabad to Tadipatri (most trains start in the evening), you probably don't want to take one because all evening trains reach in the middle of the night. So, take a bus from Hyderabad to Tadipatri. (Unless I am short on time and money, I prefer travelling during the day because to me, getting there is as important as the destination.) There are several Andhra Pradesh State Road Transport Corporation buses that run on the this route all through the day and fares start from around INR400. Reach Tadipatri in the evening and get to your hotel. There are no luxury hotels and resorts, but you do find comfortable and clean accommodation in this town.
Day 2: Take a bus or auto-rickshaw to reach the Belum Caves. Do not rush. Take your time and go slow. While you are visiting Belum Caves, get into the mental zone where you realise how many millions of years it took flowing water to carve out the passage you are walking through. Look closely at the sedimentary rocks on the walls, Can you imagine how many years it would take to form a single layer? The caves are a great place to take pictures of geological history. The rock formations (there is one shaped like a banyan tree) are wonderful subjects. Also, invest in a guide. It costs INR50 per person in your group and they could give you interesting insights into the cave and its history. Sometimes, they might even take you off the marked trail if you are feeling adventurous enough. There are some restaurants operating in the area that serve regular and simple food. Situated just outside Belum Caves is a small restaurant operated by Andhra Pradesh Tourism. It mostly serves local dishes and closes by 6pm. Return to Tadipatri.
Day 3: Take a train or bus and return to Hyderabad or head to your next destination.
Give slow travel a chance
|
Ride the Schwebebahn in Wuppertal, Germany