India: Railways tie up with airlines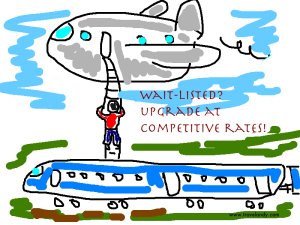 June 11 (TravelAndy): Passengers on waiting list of Indian Railways could now choose to fly to their destinations by converting their train tickets into flight ones at a competitive rate.
Indian Railway Catering and Tourism Corporation (IRCTC), the Indian Railways subsidiary that handles the catering, tourism and online ticketing, recently signed a deal with GoAir to this effect. Talks are on to include SpiceJet in this scheme too.
This facility is applicable for passengers who book their tickets at least three days before their travel date. Such passengers, if wait-listed, will receive an email from IRCTC and can cancel their unconfirmed tickets to buy flight tickets for the date of travel or one day prior to it. Such passengers will have to pay a little extra to use this service.
IRCTC reportedly sold some 100 tickets through this scheme last month.
"IRCTC will provide cheaper tickets than the prevailing spot rates. For instance, if a Delhi-Mumbai one-way ticket costs Rs 6,000-7,000, passengers with wait-listed tickets will have to pay a lower fare of about Rs 4,500-Rs 5,000," Financial Express quoted IRCTC's public relations officer Sandip Dutta as saying.
This facility is available for routes on which the partner airlines operate.
IRCTC intends to loop in more airlines into this programme.
Air India offers fares from INR1777
|
Air India seeks US customs check in Delhi, Mumbai