Tag: Char Chinari Island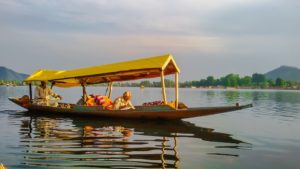 Srinagar, India (TAN): The tourism authorities of north India's Jammu and Kashmir state have decided to restore the beauty of Char Chinari Island in the famous Dal Lake here to attract more tourists.
The authorities are planting two chinar (also known as Oriental plane) trees on the island, once a favourite spot for the shooting of Bollywood films. Chinar trees are synonymous with Kashmir tourism.
The small island located in the Dal Lake has always attracted tourists, along with riding "shikaras", narrow boats indigenous to this beautiful mountainous state. Two of the chinar trees on the island had been damaged over time, especially after the 2014 September floods, much to the dismay of photographers, for whom Kashmir, Dal Lake and Char Chinari Island have always spelt "paradise". Continue reading India: Dal Lake in Kashmir gets a revamp to attract more tourists →