If you love horses, you must visit Chetak Festival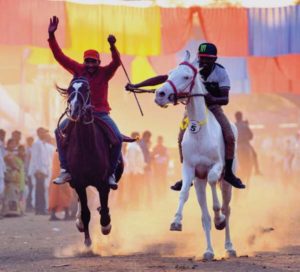 December 21 (TravelAndy): If you have an eye for equestrian beauty, as well as an appetite for adventure, Maharashtra's Sarangkheda is the perfect destination for you this winter. Sarangkheda village in Nandurbar district, like the past 300 years, will host 'Chetak Festival' through January 8, 2019, to celebrate the best horse breeds, and the legacy surrounding them.
Datta Jayanti Festival marks the beginning of the festival on the banks of the Tapi River, that is said to have been visited by the great Maratha ruler, Chhatrapati Shivaji.
Visitors get a chance to experience over 2,300 magnificent horses of five breeds participate in races, shows, and competitions during the month-long festival, organised by the Maharashtra Tourism Development Corporation Ltd. and Sarangkheda Committee.
Horse activities comprise horse dance show, horse race, exhaustive breeding information, and tent pegging. While a photo gallery dedicated to horses helps acquaint a visitor to India's equestrian heritage, one can also enjoy the countryside during a leisurely horse buggy ride.
The festival also arranges for adventure sports on land and water that include quad biking, archery, paintball, stargazing, horse safari, jet skiing, kayaking, and boating. Cultural performances by folk artists further add to the visual spectacle.
One of the oldest horse fairs in the country, the 'Chetak Festival' also acts as a splendid platform for horse trade, that is said to have attracted traders from Arabia and Balochistan in the past.
Look to London for Christmas fun
|
Etihad Airways to introduce Boeing 787 Dreamliner to Barcelona