Google launches travel planning app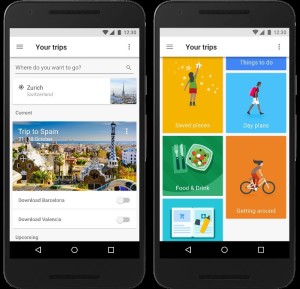 September 21 (TravelAndy): Google has launched a new app called Google Trips that will help users organise all travel information in a single place.
"Google Trips is a personalized tour guide in your pocket. Each trip contains key categories of information, including day plans, reservations, things to do, food & drink, and more, so you have everything you need at your fingertips. The entire app is available offline — simply tap the "Download" button under each trip to save it to your phone," Google said in a blog post.
The app accumulates all flight, hotel, car and restaurant reservations information from the user's Gmail inbox and stores it under the "reservation" tile in the app. Additionally, it recommends local attractions and eateries near the user's place of visit.
Since the app saves data offline, a traveller can access all required details even if they do not have Internet on their phone.
The app helps tourists plan day trips and suggests customized itineraries depending on the time that a user will spend in a particular place.
However, this app does not allow a user to book or reserve hotels or travel activities.
Airbnb, the online home sharing market place, is also planning to launch a similar app.
Google Trips is already available on Android and iOs platforms.
New York eyes new landmark in 2018
|
Air India Express starts Chandigarh-Sharjah flight