Flower tourist numbers don't meet expectations in Kerala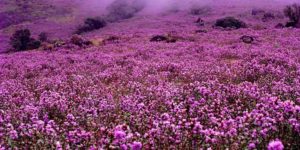 October 29 (TravelAndy): The number of tourists who visited Kerala to see the Neelakurinji flower, which blooms once in 12 years, was much lower than expected and officials are blaming the devastating floods in the state earlier this year.
A total of 119,757 tourists visited the Eravikulam National Park near Munnar between September 1 and October 28 to witness the blooming flowers, said officials.
Reports said tourists are now moving to Kolukkumalai, where the flowers will remain for another two weeks.
"The flood had an adverse effect on tourist arrivals during this season.  From September 15, tourists started to arrive in Munnar. In October, several tourists from different parts of the country come in huge numbers. Around 2 lakh tourists have reached Munnar and the adjourning areas to witness Neelakurinji bloom, but we expected eight lakh visitors, " The New Indian Express quoted K.S. Shine, Joint Director, Kerala Tourism, as saying.
In Munnar, the flowers bloomed at the hill stations of Rajamala, Kolukkumala, Kottakamboor, Vattavada and Kanthalloor. Munnar wasn't affected by the floods.
The Neelakurinji flowers grow at a height of 30 to 60 cm on hills slopes between 1,300 and 2,400 metres altitude.
Asia & Pacific gain ground in global tourism
|
Boracay island reopens for tourists after 6 months