Air India to operate new flights for Kumbh Mela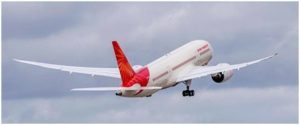 New Delhi (TAN): Air India has announced that it will operate new flights to Allahabad (Prayagraj) from several Indian cities in order to ease the rush of devotees during Kumbh Mela.
The new flights will be scheduled from Kolkata, Delhi, and Ahmedabad from January 13 to March 30 this year.
While the Kolkata-Allahabad will operate on three days of the week – Tuesdays, Fridays, and Sundays, flights between Ahmedabad and Allahabad will run only on Wednesdays and Saturdays.
The Delhi-Allahabad route will operate on five days per week – Mondays, Wednesdays, Fridays, Saturdays, and Sundays.
The Ardh Kumbh Mela, one of the largest religious congregations in the world, began in Allahabad on January 15, and will continue until March 4, 2019.
Uzbekistan to waive visa for citizens of 45 countries
|
Japan to trial bullet train at 360kmph