8 low-cost airlines form Value Alliance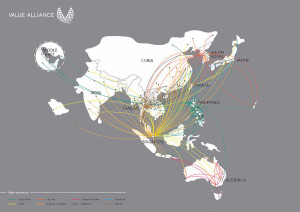 May 18 (TravelAndy): Eight Asian low-lost airlines have come together to form Value Alliance, a common platform where travellers will shortly be able to book air tickets.
The eight airlines in this alliance are Cebu Pacific (Philippines), Jeju Air (South Korea), Nok Air (Thailand), Scoot (Singapore), Nok Scoot, Tigerair Australia, Tigerair Singapore and Vanilla Air (Japan).
Through this alliance, flyers can view and reserve seats on one website, in a single transaction. The website will also allow passengers to book meals, baggage allowances and other on-board features for one itinerary.
Though for now, you cannot check in your luggage to your final destination but have to collect them and check in again in case you are flying a different flight even if it's part of the alliance, deeper co-operation among the partners is expected in the future. Also, if you miss a second flight because the first one was delayed, the second airline member will accommodate you in a later flight, said reports.
Members of Value Alliance, which was created earlier this month, operate to more than 160 destinations across Asia Pacific.
The move is being perceived as a business strategy to compete against low-cost market leaders in the region – AirAsia and Jetstar.
"By working together, we can offer our guests a wider choice of destinations and flights at the most competitive airfares, all in one go," reports quoted Campbell Wilson, chief executive of Scoot, as saying.
AirAsia India offers discounted tickets
|
Popular Thailand island off limits for tourists