10 things you should always pack

When on a trip, have you had that oops-I-forgot-to-pack-that feeling? 
I used to have that quite frequently and learning from my mistakes, I started making a packing list before trips. I start the list quite a few days before the trip and keep on adding to it as I remember stuff over the following days. That way, I am less likely to forget something.
With time, I've become quite the expert and I pack light but right!
It's impossible to make a complete a packing list that fits everyone's needs. In this post, I have put together ten things that everyone should carry with on any trip.
Here are 10 things you should always pack.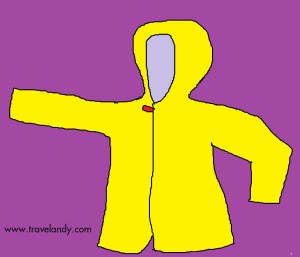 Windcheater-cum-raincoat: I am all for packing light and consequently, I always prefer things that serve more than one purpose and this one is quite the multipurpose product. I can use it if it's a little chilly, I can use it when it's raining a little. At night, I can make it into kind of a ball and use it as an improvised pillow!
Plastic bags: From protecting your gadgets from getting wet to saving your clothes from a leaking shampoo bottle, plastic bags can be of real help during a trip. I always carry some with me.
Rubber bands: You need rubber bands to seal the plastic bags. And they have a hundred other uses. Carry some!
Torch: Much like travel insurance, you never realise how important a torch is until everything around you is pitch-black and you can't see a thing. Or, when you're looking for a tiny something in a cluttered dark place and your phone screen light is just not enough!
Passport and visa photocopies: This tip of course is necessary only if you are going to a foreign country. And I hope you realise it makes zero sense if you keep them together with the originals.
Chain and lock: You can keep your bag locked to your seat or the luggage rack on the train. The lock can come handy elsewhere too and make you feel a little more secure.
Mug and spoon: Coffee, tea, booze and cereal are only four of the many ways you can use these. You will be surprised at how often you find them useful.
International adapter: In this age and time when gadgets have become such an important part of our lives, the international adapter has become all the more important when you are visiting a foreign country.
Toilet paper: It should be called all-purpose paper instead of toilet paper. Apart from the obvious use, you can blow your nose into it, wipe your face clean after splashing some water on it, use it to keep food on when there no dish around… and I could go on for ever.
Medicines: Don't forget to pack some basic medicines for fever, allergies, cuts and bruises, indigestion and the like.
Sunscreen: I rarely used sunscreen till the summer of 2013. That's when, during a whale-watching trip in Canada, my face, especially the nose, got horribly sun-burnt and beetroot-red. It's a pretty pathetic sight when all the burnt skin peels off your face over the next few days.
Ten reasons to visit Pushkar Camel Fair
|
Greetings: Kiss, hug or shake hands?