Japan
If you know someone who's really polite, multiply the person's politeness by five and you get the average Japanese. In my three weeks in Japan, I met some amazing people, had seaweed for lunch, got into a hot pool with random naked men and tried my hand at sea diving. Japan is an incredibly unusual experience and if you haven't visited this country already, you should seriously consider going.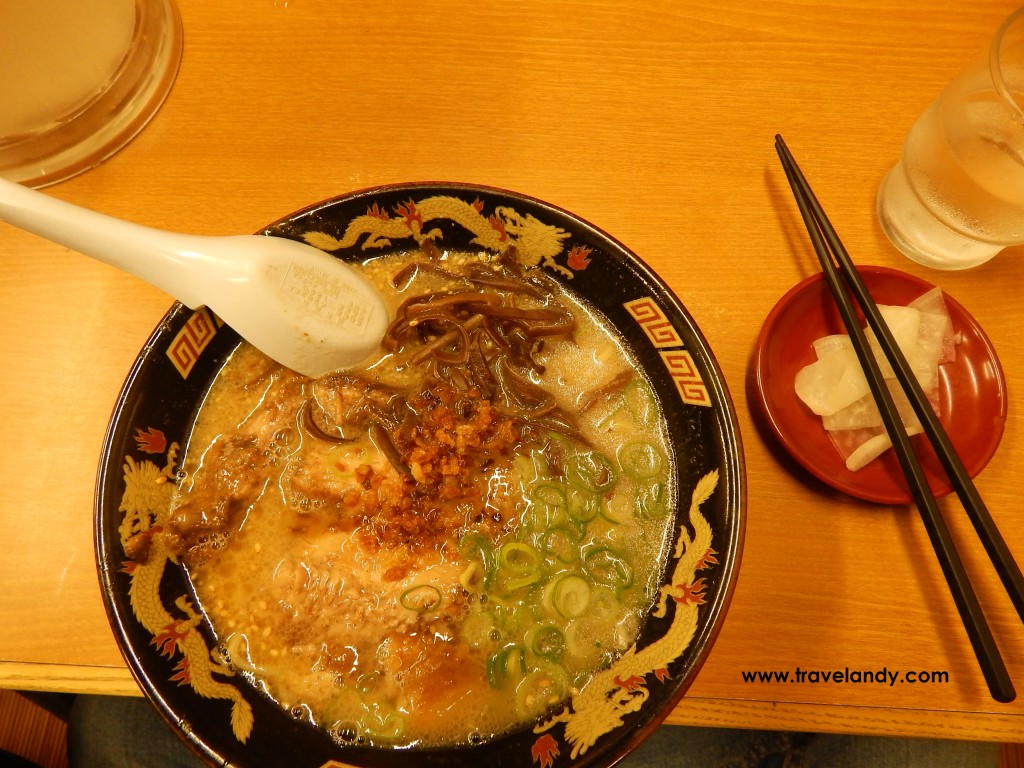 Destination guides
Top things to do
1. Get on the Shinkansen: I believe a trip to Japan is incomplete without a ride on the bullet train. Even though I haven't seen every train on the planet, I am willing to bet that these are coolest trains on earth!
2. Eat ramen: Ramen is egg noodles and the Japanese invented them. You've probably had awesome sushi elsewhere, but I've never had noodles that tasted this good!
3. Soak in an onsen: Onsen is Japanese for "hot spring" and this country has thousands of them. The Japanese use the mineral-rich water of these springs in public baths all over the country. You get into a bathhouse, strip to your birthday suit, wash yourself clean and immerse yourself in the hot water tank to soak, along with of course, the several other people (of the same sex; there are hardly any mixed onsen) who are doing the same.
4. Watch a sumo match: A match typically lasts less than a minute. But the build-up with the elaborate rituals and salt-throwing are more than enough to get your adrenaline flowing.
5. Check out some Japanese dances: If a geisha performance is on when you are around, don't miss it. Also try to catch a kabuki or a butoh performance.
6. Shrines, gardens and forts: The country has hundreds of beautiful shrines and awesome gardens. If these are your thing, you'll love it. Japanese forts are very different from Indian and European ones. Check out the castles at Himeji, Matsuyama or Hikone.
7. Get amazed by Japanese toilets: You can read that again. There is no denying that the Japanese are No. 1 when it comes to the No. 2. You will be amazed by the extent to which the Japanese use technology to make your pooping experience a memorable one. You'll miss them when you leave Japan.
8. Play some computer games: There are huge gaming parlours in all big cities and even if you are not into gaming, you should just get inside and look around. It's a crazy and noisy world in there with hundreds of gamers playing computer games weirder than the next one.
9. Visit Beppu: This town is sitting on boiling water. Literally. There are several hot springs and a geyser with various kinds of minerals that give the water different colours and temperatures. You also get to eat eggs boiled in the hot water of these springs! Though each of the springs have been so commercialised that you feel you're not entering a hot spring but some kind of fair, this is something that you shouldn't miss. This town also has several onsen.
10. Check out Okinawa: If you love the sea, Okinawa is the place to be. With picture perfect beaches and shallow waters teeming with colourful corals and fish, this group of islands will take your breath away. Don't forget to try out the typical Okinawi food such as sea grapes and the local liquor, awamori.
11. Kyoto and Tokyo: Experience these two cities to understand how different they are. While Kyoto is serene and low-key with beautiful shrines and gardens, Tokyo is throbbing with energy.
12. Hiroshima: The one place you must not miss. Though disturbing, make it a point to see the Hiroshima Peace Memorial Museum. The experience will help you understand better the world and age we live in. The city is beautiful and has come a long way from just being the city through which the world entered the nuclear age. Try the Hiroshima okonomiyaki. This version is very different from the okonomiyaki you get at other places in Japan.
Typical Costs
Sleeping: Dorm beds start from around INR900. But it's hard to find beds that cheap in major cities where the starting price would be around INR1,250. To stay in a good ryokan (traditional Japanese inns), you need to shell out at least around INR 9,000 if not more.
Food: A filling meal at a moderately-priced city restaurant would cost you at around INR550. Sushi plates start from INR400 and a good one would cost around INR650. A filling bowl of yummy ramen would cost around INR500. Set lunch boxes at convenience stores cost between INR185 and INR450. A two-litre bottle of water costs around INR62 and a 600ml Coke is around INR93.
Transportation: Japan has an excellent railway network. But there's a downside — the cost. The 513km distance Tokyo and Kyoto takes 2 hours 18 minutes by Nozomi, the fastest type of bullet train, and costs around INR8,000. Buses also run all over the country. Highway buses take around eight hours to cover this distance and ticket costs could be as low as INR2100. There is also a ferry network running around the country. A second class ticket on a Kagoshima-Naha ferry will cost you around INR9,300 and take 25 hours. You can, of course, take a flight and get to your destination in an hour or so. But that will cost you double the ferry price.
Activities: Entry to some shrines are free but others charge a few hundred yen. The same goes for onsen. In Beppu, entering each of the hot springs (called 'hells' for commercial reasons) costs JPY400 (around INR235), but you can buy a combined ticket that allows entry to all the six hells for JPY 2,100 (around INR1200). The entry to the Hiroshima Peace Memorial Museum is just JPY50 (around INR30) and you cannot miss this one.
How to save money
Buy a Japan Rail Pass: If you are visiting Japan for three weeks or less and would be doing a fair amount of train travel around the country, it makes sense to buy a JR Pass. This pass, which allows you unlimited train travel for seven, 15 or 21 days, apart from free rides on some ferry routes and JR buses, could save you tens of thousands of yen and a lot of time. You can just hop on and off JR trains with this pass. However, you can only buy this pass from outside Japan and only if you are entering the country on a "temporary visitor" visa.
Seishun 18 Kippu: Available thrice a year, this could be a very good deal not only if you are travelling alone, but also in a group. This is available to Japanese people and lots of them use it. But if you're buying a JR Pass, don't bother with this one.
City/region passes: There is only one route on which a JR bus (free if you have a JR Pass) runs in Kyoto. So, you can consider a one-day city bus pass for JPY500 (INR290 approx). This is a good deal if you're taking the bus more than twice a day because each ride costs you JPY230 (INR134 approx). Such deals are available in most cities. But there are lots of private companies that run public transport. So, before you buy a pass, do the math and see if you'll save or not. For Tokyo passes, check this link out.
Eat at convenience stores: It's not as boring as it sounds. The "bento" boxes available at all convenience stores are cheap, filling and quite tasty. For INR400, you can have a very good meal.
Work in exchange for your bed: If you are staying at one place for a long time (a few weeks), consider working for your stay. For a few hours of work (cleaning, manning the reception, doing laundry, etc) every day, many hostels offer free accommodation to boarders. Just ask.
Free activities: Entry to many shrines, parks, museums and even onsen across Japan is free. Visit these!
Free walking tours: Several free walking tours are available at various places in Japan. The Tokyo SGG Club provides free guided walking tours of Asakusa each Saturday and Sunday (in English) and sightseeing information in four languages (Japanese, English, Mandarin Chinese and Korean). Maps or brochures in each language are also available at the Asakusa Culture Tourist Information Center, from where the tours start. You can find more information on free walking tours here.
Shop at 100 Yen shops: You find these in the cities and I was surprised by the quality and variety of stuff you get here. From stationery and clothes to gadgets, you get almost everything.
Itinerary
Japan [3 weeks]
Day 1: Land in Tokyo
Day 2: Tokyo to Kyoto.
Day 2-4: Explore the beautiful shrines and gardens. Don't forget the famous Arashiyama bamboo grove. Hang around the touristy Gion area and if you're lucky, you could bump into a real geisha.
Day 5: Kyoto to Osaka. Check out the happening Dotombori and pay a visit to America Mura, which is nearby.
Day 6: Day trip to Kobe. Don't miss the 21st floor observatory in Kobe's City Hall that is free and offers excellent views. You'll also love to walk through the Kitano area.
Day 7: Kyoto to Hiroshima. See the Hiroshima Peace Memorial Museum and get disturbed.
Day 8: Day trip to Miyajima. The ferry from the railway station to this island is covered by the JR Pass. Get impressed by the beautiful floating "torii" (gate) and the deer roaming about freely.
Day 9: Hiroshima to Beppu. If you really want to stay in a ryokan, do it here. Choose one with a private onset if you have some cash to spare. Check out the geyser and the colourful hot springs.
Day 10: Beppu to Kagoshima. From here, take the evening ferry to Naha.
Day 11: Reach Naha in the evening.
Day 12-16: There are lots of beautiful islands in Okinawa. Check out some of them, snorkel, dive and try out the unique Okinawi cuisine. Get drunk on awamori, the local brew.
Day 17: Fly to Tokyo.
Day 17-20: Four days is not enough to experience Tokyo. But its time enough to have a feel of this energetic city.
Day 21: Fly home.
Would you like to add to this guide? If yes, you can either post your suggestions in the comments section or mail me directly at travelandysite@gmail.com with your suggestions so that I can update it with the relevant points. I will be happy to include your name (with a link to your blog if you have one) at the bottom of the page. 
Related articles