India's election is now a major tourist attraction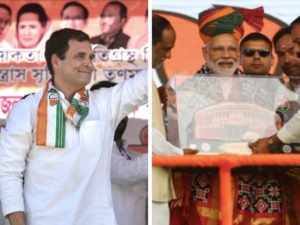 New Delhi (TAN): An increasing number of foreign tourists are developing an interest in experiencing the carnival that is  Indian elections scheduled to be held in April-May 2019 as much as traditional tourist attractions such as the Taj Mahal.
The Indian tourism service providers are catering to the demand at a time the world is looking at its largest democracy to find out whether the sitting Prime Minister Narendra Modi wins another term or the Opposition registers a win.
Indian tour operators such as Akshar Travels, Sita Travels, Travel Corporation India and the like are ready with election package for potential international clients. On the offing are seven-day election  tourism packages that would include regular tours apart from experiencing political rallies. 
According to a Reuters report, 2012 saw election tourism packages being offered by tour operators for the first time in west India's Gujarat. Incidentally, India's current Prime Minister Narendra Modi was then the chief minister of Gujarat.
"The Indian Election is like a festival," the Reuters report quoted the founder of Election Tourism India and chairman of Gujarat Tourism Corporation Society, Manish Sharma, as saying. Rallies by Modi's Bharatiya Janata Party (BJP) and the main Opposition in Parliament, Congress, have generated a lot of interest among tourists.
Media reports said tour operators in Gujarat capital Ahmedabad have already received around 3,500 election package bookings from both domestic and international tourists.
"So far, we have received 1,600 bookings and more than 3,300 inquiries from both domestic and international tourists. They are students, journalists, researchers, but also tourists who want to experience something new," Skift quoted Sharma as saying.
These 5-6 night tour package includes regular sightseeing along with experiencing public election rallies, meeting political leaders as well as officers of India's election commission. Some packages also offer tourists the chance to dine with political leaders.
Major IT outage delays flights across the US
|
MCAS to blame for Lion Air, Ethiopian Airlines crashes, admits Boeing