Cambodia
It's an irritating reality that many places and events defy description. Angkor Wat and Machu Picchu, for instance, seem to demand silence, like a love affair you can never talk about. For a while after,you fumble for words, trying vainly to assemble a private narrative, an explanation, a comfortable way to frame where you've been and what's happened. In the end, you're just happy you were there- with your eyes open- and lived to see it.
– Anthony Bourdain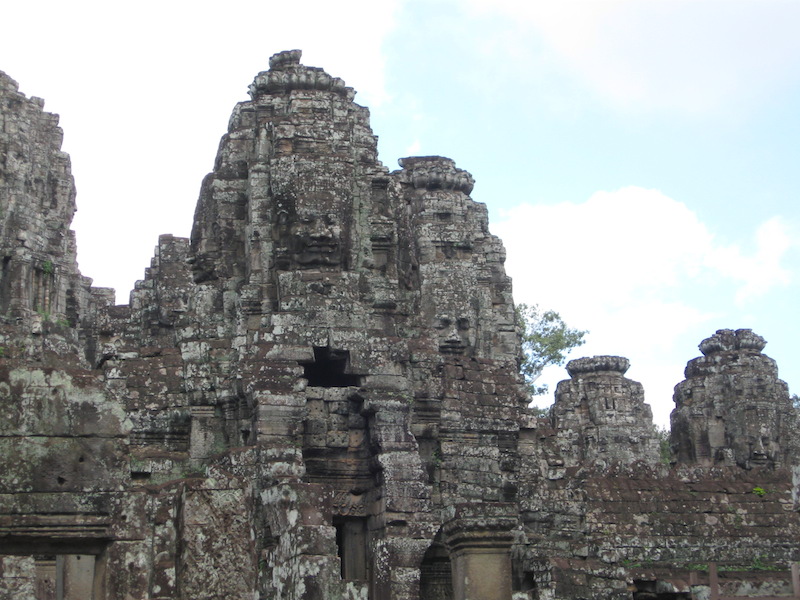 Cambodia is a magical place that has many different facets to it. From the pristine beaches, the ancient temples of Angkor Wat and the rolling northeastern hills to the bustle of downtown Phnom Penh, this is indeed the Kingdom of Wonder.
Top Things to Do
1. Visit Angkor Wat: This, and the other ancient temples surrounding Siem Reap, were built between the ninth and twelfth centuries and should NOT be missed. Angkor Wat, the most famous of the lot, is a Unesco World Heritage Site, and once you feast your eyes on it, you will understand why.
2. Experience Battambang: This is a city of bat caves, mountain temples, killing caves and bamboo trains. There's even a local circus that promotes a good cause.
3. Go jungle trekking: It is possible to go jungle trekking in many parts of the country including the Cardamom Mountains and the Mondulkiri province. Walking through the flora and trying to catch glimpses of the fauna is quite interesting. Scattered little villages are found along these trekking routes.
4. Say hello to the dolphins: You shouldn't miss seeing the river dolphins in Kratié. You can go looking for these endangered Irrawaddy dolphins that remain in the area all year around.
5. Learn local history: The Khmer Rouge historical sights are hard to endure but you should visit at least one to help you understand the recent past of this beautiful country that is still recovering. This will also help you better appreciate the resilience of the Khmer people. The Killing Fields, Tuol Sleng Genocide Museum and the Killing Caves of Battambang are the three most visited sites.
6. See glowing plankton: In addition to being B-E-A-Utiful beaches, Koh Rong and Rabbit Island have bio-luminescent plankton in the water that are a delight to experience. Rabbit Island is a little-known island off Kep, a sleepy beach town. Koh Rong is popular with backpackers for its relaxed atmosphere.
7. Eat yum seafood: The Crab Market of Kep is among the best places to get the freshest crab and other seafood. You will not find many tourists visiting this market.
8. Bike tour: Touring Kampot and Bokor Mountain on a bike is a great way to spend a day outside the big cities. Kampot is surrounded by several attractions including the Kampot pepper farms, salt flats, river activities and of course, Bokor Mountain. Bokor is an interesting place with an abandoned old casino and a new and upscale Chinese casino, vistas of the surrounding area and beautiful landscape to boot.
Typical Costs
Sleeping: Depending on where you are in the country, you're looking at $4-$8 (INR250-INR500) for a dorm bed. Bungalows start from $5 to $7 (INR310-INR450). Nice guest houses start around $10 (INR615), hotels from $20 (INR1,230).
Food: Eating local hardly costs more than $2 (INR125) a meal. Moderately-priced Western establishments are $3-7 (INR185-INR450) a meal. A can of beer costs between $.50 (INR31) to $1 (INR62) unless you're at a fancy restaurant. Cocktails start from $2 (INR125) at moderately-priced places.
Transportation: Most local buses tickets cost between $4 (INR250) and $10 (INR615). Mini vans are between $12-$15 (INR740-INR925). Private Taxi's can cost $50-$80 (INR3,100-INR4,900) depending on the size of the vehicle and distance covered.
Activities: The first thing you realise is that the locals pay about one-tenth the cost for activities than foreigners. It makes sense when you remember that their the average monthly salary is $120. Most museums and historical sights will cost you between $5-$10 (INR310-INR615). The exception are a few places in Siem Reap (museums) and all the temples around Angkor Wat. Buy a day (or multiple-day) pass to save money on the temples.
How to Save Money
Use local buses: There are a few main bus companies that go to all the tourist destinations in Cambodia. Among these, Capitol Bus Company and Sorya Transportation are the big ones. They are very economical and reliable. You have to crowd in with locals and the buses stop frequently. But it is worth the money you save.
Negotiate with moto and tuk tuk drivers: These guys are just trying to make a living and so probably can't blame them too much for trying to rip you off! But make sure you know your destination and have an idea of how far away it is. Pay no more than $2 (INR125) for a moto across town (20-minute ride) and about $4-$5 (INR250-INR310) for a tuk tuk. Just walk away if they quote an outrageous fare.
Eat local: Cambodian food is delicious and affordable. A friend of mine got pork and rice every day for lunch from a local vendor for under a dollar and it came with pork, rice, soup, veggies and all-you-can-drink tea!
Itineraries
1. The whole shebang! [1-2 months]
There are a lot of exciting places to visit in Cambodia and traveling to each one can be an adventure in itself. The roads are not the best and you should factor this into your travel schedule.
There is a large (approximate) figure 8 you can make around the country, with Phnom Penh (the capital) being your base.
1. Start in Phnom Penh and explore the local attractions.
2. Head to the Mondulkiri province and go to Sen Monorom for some great jungle trekking.
3. Your next stop is Banlung. Explore some mountain towns and get off the beaten track.
4. Go to Stung Treng next. This is in the interior of Cambodia. Make sure you check out the Mekong River and all the beautiful wilderness in this area.
5. Float down to Kratie (pronounced Craw-Chet) to catch a glimpse of the Irrawaddy dolphins, an endangered species
6. Take a mini van to Kampong Cham.
7. Siem Reap is your next stop. You can spend a whole week here if you want to see every single temple. Don't miss out on Bungmalea – a precursor to the Angkor Wat that adorns the Cambodian flag.
8. From here, head to Battambang for the bat caves, mountain temples, circus and bamboo train.
9. Back at Phnom Penh, check out the silk weaving village across the river. Take a sun set river cruise. You can negotiate with the captains for about $30 (INR1,830) per hour.
10. Trek down to Kampot for some delicious food (check out The Rusty Keyhole restaurant!), and biking tours. Moto up Bokor Mountain to see some beautiful views of the area, an old abandoned casino and a Chinese casino that is now operational.
11. Less than a 30-minute drive is Kep, where you must pay a visit to the the fresh crab market. The beach is a nice one to play on and people-watch
12. Rabbit Island is a 20-minute boat ride from Kep. Go here for the calm waters, deserted beaches and cheap bungalows.
13. For a livelier beach, head to Sihanoukville. The party boat to Koh Rong is a ton of fun, with stops for snorkeling and general shenanigans. If you want a more relaxing beach experience, head over to Otres 1 or Otres 2 beaches. They are close to Sihanoukville, have better beaches and are much more secluded! This is where local expats head to if they want a weekend away from Phnom Penh.
14. Your last stop is Koh Kong. Go here for some of the best beach sights in Cambodia.
2. Beaches and relaxation [1 week or more]
For a relaxing trip filled with the sun and the sea, start in Kep and pop over to Rabbit Island for some calm and quiet. Next, head to Sihanoukville for a more lively time and Koh Rong for some cheap bungalows and hostels, good food and beautiful sights.
3. Historical sights [1 week]
Stick to Siem Reap for the most part of your trip with a few days in Phnom Penh. Don't miss the Royal Palace, Wat Phnom, the Killing Fields and Tuol Sleng Genocide Museum.
This guide is by Adrian, a 28-year-old, originally from Seattle, Washington. She started travelling internationally at 16 when she moved abroad for a year as an exchange student to Brisbane, Australia. The travel bug bit her hard but it took another 10 years to finally move back abroad. At 27, she started traveling in Cambodia, moved to Taiwan for a few months and then went back to Cambodia as it had stolen her heart. After teaching 2nd grade in Phnom Penh for 8 months, she decided it was time to start exploring more of the world and switched her career to permanent traveler. You can take a look at her blog here.