Today is Mahalaya, a prelude to Durga Puja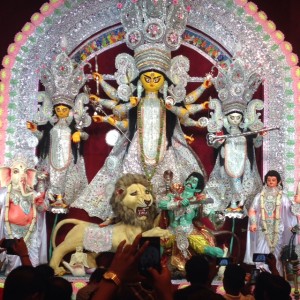 October 8 (TravelAndy): The east India state of West Bengal and its people staying around the world on Monday celebrated Mahalaya, a prelude to Durga Puja, the biggest festival in the region that attracts visitors from across India and abroad.
Social media flooded with "Shubho Mahalaya" (Happy Mahalaya) messages.
Mohalaya marks the beginning of Devi Paksha, a 10 day period. The carnival-style celebrations take place over the last four days.
Big and small marques are set up across the state and beyond where Goddess Durga is worshipped. The festival is a celebration of the goddess' victory in her battle with the buffalo demon Mahishashur.
Themed marquees (pandals) with the Durga idols inside are the major attractions during this time. The themes could be as varied as global warming to Avatar, the blockbuster Hollywood film. Hundreds of thousands of people hop around various pandals during this time to see the lights, and temporary structures set up as part of the puja's theme. Often, these structures take months to build.
The Mahalaya of today has become synomymous with a programme called Mahishashurmardini (Vanquisher of Mahishashur), which is aired on every Mahalaya ay 4am.
"A shoutout to all bong kids… who are far away from home and their family during Durga Puja, slogging away in another city/country/continent. I do not think a word exists to describe the heartbreak of having to celebrate this festival, through Facebook pictures and YouTube videos. Yet, I believe on Mahalaya. Durga agomoni happens in the heart of every bengali, near or far. Subho Debipokho," wrote Debadrita, who is doing her PhD in the US.
Funds for rural tourism infrastructure in Scotland
|
Snow cleared, Rohtang Pass reopens