Singapore to turn Mandai into eco-tourism hub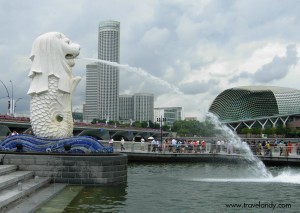 June 1 (TravelAndy): Singapore will turn its Mandai Safari Park into an eco-tourism hub by 2020.
At present, the major tourism highlights of the park are Singapore Zoo, the River Safari and the Night Safari.
Within a span of three years, the authorities plan to develop it into a bigger area, comprising of several other attractions including a bird park and a rain forest.
The bird park will host some of the species that are found in the popular Jurong bird park. The park will shelter endangered species such as bali mynah, black-winged starling and blue-crowned laughing thrush. It will also allow tourists to observe bird performances in a natural habitat.
Tourists will be able to enjoy "the sights and sounds of the tropical rainforest of Southeast Asia. They will be invited to set out on an exciting, multi-layered adventure, meandering through forest floor pathways to the treetop canopies,"said a Mandai Safari Park press release.
Eco-friendly accommodations like camps, tents and family rooms will be built, to facilitate lodging for visitors.
"Visitors have asked for more novel, engaging and immersive experiences and we hope the new Mandai nature precinct will provide all that and more. We are also mindful of the need to provide appealing public spaces so that everyone can enjoy the beauty of the Mandai nature precinct," said Mike Barclay, Mandal group CEO.
Lufthansa to fly Frankfurt-Cape Town from Dec 2
|
Tamil Nadu to launch app for tourists