MP: Stepping into the heart of India this winter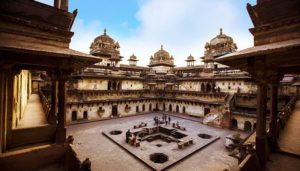 December 14 (TravelAndy): Now is a fascinating time to explore Madhya Pradesh, not just because of the diversity it offers in terms of breathtaking landscapes, forest covers, fauna, heritage, and art and handicrafts, but also because it celebrates all of those through festivals, and other cultural performances, while sharing it with the outside world.
Bhopal, the capital city will host 'Hriday Drishyam', a two-day musical event from December 15 to 16, to bring together the finest and most loved Indian classical and jazz musicians on the same platform — Hariprasad Chaurasia on flute, Smita Nagdev on sitar, Shruti and Ninad Adhikari on santoor, and the band Golpe Tierra, among several others. The festival, all set to take place at Minto Hall, Shaurya Smarak, Bharat Bhavan, and Iqbal Maidan, has made entrance free for music lovers.
December 16 will see locals and travellers alike getting ready for the 'Go Heritage Run' in the exquisite temple town of Orchha. The annual event, organised in different locations every year, is an effort to delve into the cultural depths of the state. The run, slated to start at 6am from Sheesh Mahal, will take the participants through roads and trails sharing glimpses of 'chhatris' and temples from the Bundela era.
Madhya Pradesh is home to several indigenous communities, and Indira Gandhi Rashtriya Manav Sangrahalaya will organise 'Tribal Literature Festival' between December 14 and 16 in Bhopal to uphold the richness of tribal literature and society. The event will include reading, writing, and storytelling sessions, a seminar on the contributions and concerns of tribal languages and literature, workshops, and cultural performances.
Bhopal is ready to play host to 'National Balrang 2018', a three-day festival that acquaints children with and upholds the cultural heritage and diversities of the region, and India, from December 19 to 21. Indira Gandhi Rashtriya Manav Sangrahalaya, Directorate of Public Instructions, and Madhya Pradesh's School Education Department join hands every year to encourage young talents from all over the country to imbibe and understand the true essence of Indianness through dance and music.
Known as the heartland of magnificent fauna and forests, the Satpura Tiger Reserve is the perfect place to hone one's naturalist skills. Pugdandee Safaris will organise the Amateur Naturalist Program from January 5 to 11, 2019, at the Denwa Backwater Escape in order to provide an opportunity for an intimate rendezvous with the wildlife of central India. Applicants will need to register for the six-day course, and earn a certificate of accomplishment on completion.
Perth Airport introduces sleeping pods for passengers
|
Trace Robert the Bruce sites with interactive map