Singapore
The first thing that struck me when I landed in Singapore was how clean the city was. Coming from India, I couldn't believe it was possible to keep a city this clean! This city-state, the name of which is a fusion of the words "singa" (lion) and "pura" (city), is a melting point of cultures and cuisines.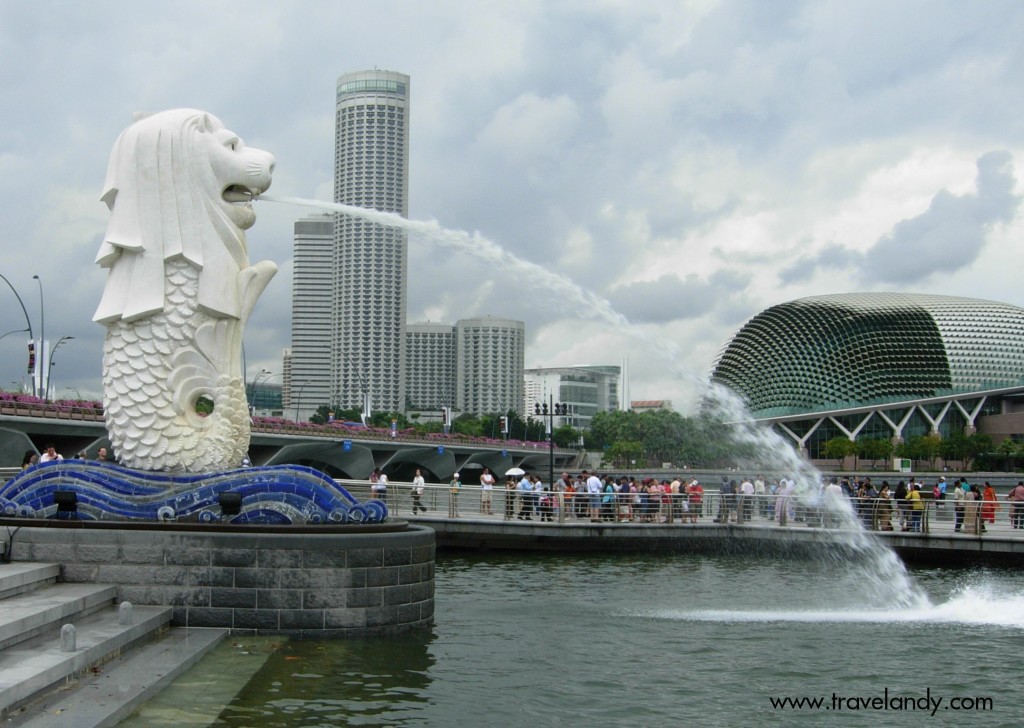 Top things to do
1. Get lost among orchids: Situated inside the Singapore Botanic Garden, the National Orchid Garden is an oasis of peace in the hustle and bustle of the city. Go early in the morning to avoid the hot sun. The $5 entry fee is worth it.
2. Picnic at Gardens By The Bay: This sprawling 101 hectares of award-winning horticultural attraction is just about a five-minute walk from Marina Bay. You will love your time here in the midst of the amazing Supertrees.
3. Experience Universal Studios: This Hollywood-themed park gets your adrenaline pumping. Ticket prices are expensive. But if you can afford it, the experience is worth it.
4. Eat at hawker centres: Yummy food. Great variety. Cheap. Do I need to say more?
5. Jurong Bird Park: You should definitely visit this place if you are a bird-lover. Even if you are not, you'll love the experience. Skip the tram and just walk through the park.
6. Hang out with the Merlion: A Singapore trip is incomplete without a visit to the Merlion Park. Mingle with the hundreds of tourists at the park and click a selfie with the Merlion.
7. View from the top: Tickets to the 165-metre Singapore Flyer aren't cheap. But ah, the view.
8. Great food and cheap souvenirs at Chinatown: Wonderful place to shop, see some museums, eat yum food and experience a slice of Chinese culture in Singapore.
Typical Costs
Sleeping: Singapore is undoubtedly costly, but you will find decent budget hotels where room rents start from around INR3,000 a night. Hostel bed costs start from less than INR1,000 a night.
Food: A budget breakfast at a hawker centre costs between INR190 and INR400. Lunch is around INR300 here. Dinner is dearer and in the INR300 to INR700 range. Bars and restaurants sell beer at two or three times the price at hawker centres. At these centres, a beer bottle costs between INR 230 and INR450.
Transportation: Public transport in Singapore includes bus, railway and taxi. Mass Rapid Transit (MRT) is the cheapest mode of transport around Singapore. Light rail tickets cost between INR50 to INR100, whereas a 3km taxi ride can range from INR200 to INR380 depending on your location. There is limited water transport within the mainland.
Activities: Many gardens, such as Singapore Botanic Garden has free entry to the outside premises, but there is a two-part tariff in most cases. Religious places provide free entry to all. Tourist attractions charge differently for adults, children and senior citizens. It is generally more than INR1,000 for any category.
How to save money
Use MRT: Avoid the taxi or shuttle bus and use the MRT to get into the city from the airport. Make use of the tourist concession passes available at MRT stations.
Visit gardens and religious sites: Singapore has effectively transformed from Garden City to City in a Garden. Experience its horticultural wonders, entry to most of which are either free or quite cheap. Temples and monasteries offer havens in the regular hustle and bustle of the city. You will also love the architecture.
Eat at hawker centres: Food comes cheap at hawker centres as compared to traditional restaurants.
Travel off season: Singapore does not really have an off season. But visit in May and you might save a few bucks.
Couchsurfing: Singapore has a pretty big Couchsurfing community. Make use of it.
Itinerary
Singapore [3 days]
Day 1: City tour
Start early and see the Merlion Park, Thian Hock Temple, Singapore Botanic Garden, Chinatown and Little India. Visit the country's Parliament, court, parks and gardens. End your day with shopping at Orchard Road.
Day 2: Day with animals
Experience Singapore zoo and River Safari, meeting the great pandas and numerous other species of mammals, birds and reptiles including some endangered ones. Do the night safari. This nocturnal zoo is the first of its kind which is home to over 100 species, many of them considered threatened.
Day 3: Universal Studios
Unique rides and attractions make this theme park a must-visit for all.
If you have the time, take it slow and do this trip over seven days.
Would you like to add to this guide? If yes, you can either post your suggestions in the comments section or mail me directly at travelandysite@gmail.com with your suggestions so that I can update it with the relevant points. I will be happy to include your name (with a link to your blog if you have one) at the bottom of the page.