Varanasi
Enlightenment, and the death which comes before it, is the primary business of Varanasi.

– Tahir Shah, author
Eighty-four ghats, yogis by the hundreds, uncountable narrow and narrower lanes and a mythical aura constitute Varanasi (or Banaras), a city which looks older than history, legend and time. It's a different world where Hindus throng to attain salvation.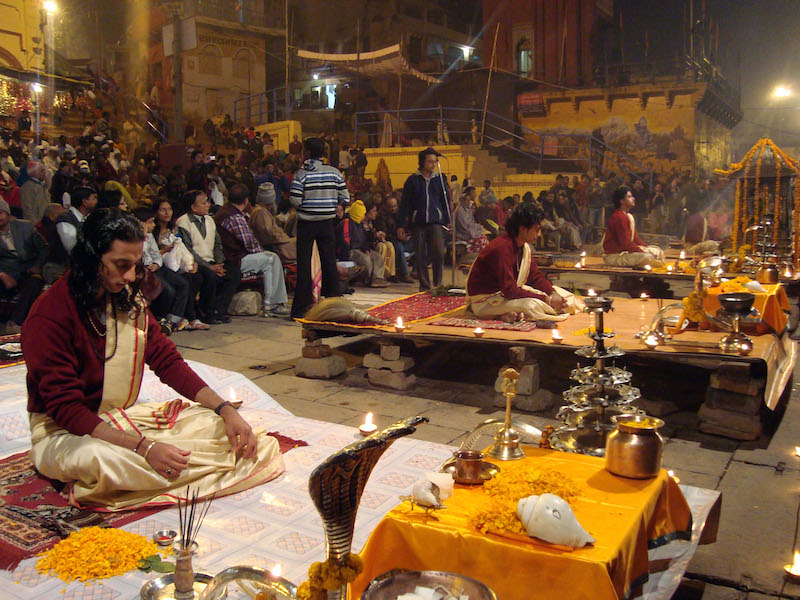 Top things to do
1. Walk along the ghats: A "ghat" is a series of steps leading down to the river. These are used by bathers and pilgrims who want to take a dip and the Varanasi waterfront has many of these. Start your walk from the Assi ghat and keep walking along the Ganga. Each ghat has its own story and characteristics. Harishchandra and Manikarnika are the burning ghats (bodies are burnt in full view and afterwards, the ashes are eased into the river) and Dasaswamedh Ghat is the place where the most colourful aartis (fire rituals) take place.
2. Get lost in the maze of narrow lanes: If you've seen narrow lanes, Varanasi has narrower ones. It's easy to get lost.
3. Take a boat ride: Hire a boat and take a ride in the Ganges. The Ganga arati that takes place every evening at Dashashwamedh Ghat is an impressive sight from the water. Special ceremonies are held on Tuesdays and during religious festivals. Some hotels offer "free" boat rides, but be aware that in most cases, the boats will go half way and let you know it would cost you money for the ride back. You can get down and walk back if you don't want to pay.
4. Chat with a yogi: Getting to know the different legends associated with Varanasi from a yogi could be very interesting. Legend has it that at the beginning of time, the Varuna and the Assi rivers originated from the body of the primordial person. The land lying between these two rivers is believed to be Varanasi (originally known as Kashi). Another folklore goes that this was the original land created by Lord Shiva and Parvati.
5. Learn the history: The recorded history of Varanasi is nearly as interesting as the legends associated with the place. This is among the world's oldest continuously inhabited cities and during their time, many kings and queens from across the subcontinent have paid visits to Varanasi to cleanse their souls.
6. Try some chaat, lassi and thandai: People in Varanasi eat a lot of chaat (a sweet and sour snack). Try some yum ones at Kashi Chat Centre. Also, don't forget the delicious lassi and thandai.
7. Banarasi paan: The paan (tasty masala wrapped inside betel leaf) is famous across India and when you're in Varanasi, you must try this. Remember, paan is an acquired taste and initially, you might think it tastes a little soapy (some of my friends found it so). But once you begin to appreciate it, there's a high chance you will become a fan. Paans from Varanasi are even exported.
8. Visit Bismillah Khan's home: If you're into Hindustani music, you would have heard of shehnai maestro Bismillah Khan, who called Varanasi home. His descendants stay at the same house in Haray Saray Mandi, a little away from Gowdhulia.
9. Take a walk inside Banaras Hindu University: The campus is huge and you'll enjoy a stroll inside.the very green and peaceful area. With 124 departments, this is the largest residential university in Asia. You can also visit Bharat Kala Bhavan, a museum of art and archaeology inside the university.
10. Visit Sarnath: Situated some 13km from Varanasi, this is one where Buddha is supposed to have given his first speech after his enlightenment.
Typical costs
Sleeping: Dorm beds start from 500 and rooms from around INR800. However, a standard room would be around INR1,000 and you'll have to spend some more for an air-conditioned one.
Food: It's possible to have hygienic and filling food for INR400 at the average restaurant.
Transportation: Local transportation is usually by cycle rickshaw or auto rickshaw. A 10-minute ride on a cycle rickshaw would cost you around INR20. A 10-minute ride on an auto rickshaw on a sharing basis will cost you around INR20 per head.
Activities: A 30-minute boat ride costs INR200. They will, of course, ask for more, but you can bargain and bring it down to somewhere around here. If you want to watch the Ganga aarti (fire worship of the Ganges) from the river, it'll cost you INR50 per head. They may demand as much as INR150 per head, but you can bargain and bring it down.
How to save money
Bargain well: Whether it's a rickshaw ride or a boat ride or just some shopping for clothes, be ready to bargain. If possible, get an idea of the price you should pay beforehand. That makes it easier for you.
Would you like to add to this guide? If yes, you can either post your suggestions in the comments section or mail me directly at travelandysite@gmail.com with your suggestions so that I can update it with the relevant points. I will be happy to include your name (with a link to your blog if you have one) at the bottom of the page.