Tag: Yukon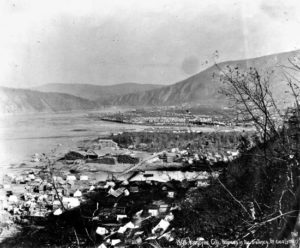 June 14 (TravelAndy): The Yukon Territory celebrated its 120th year of existence on Wednesday.
"Happy 120th birthday, Yukon!" the government of Yukon wrote on its official Twitter handle.
On June 13, 1898, Yukon was made a Canadian territory.
The tweet had a picture attached that shows Dawson City in 1989, the same year it was made the capital city of Yukon. Continue reading Yukon Territory in Canada turns 120 →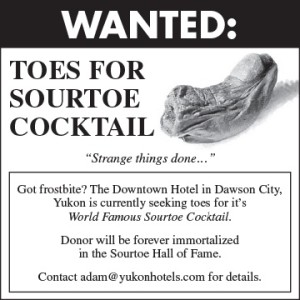 May 13 (TravelAndy): The Downtown Hotel at Dawson City in west Canada's Yukon territory is looking for human toes to put in a cocktail. Yes, you read that right.
The Sourtoe Cocktail Club has put up a post on its Facebook page seeking toes saying, "Wanted: Toes for the Sourtoe Cocktail".
"Got frostbite? The Downtown Hotel in Dawson City, Yukon, is currently seeking toes for its World Famous Sourtoe Cocktail. Donor will be forever immortalised in the Sourtoe Hall of Fame," it adds. Continue reading Sourtoe Cocktail Club seeks donation of toes →

Woolly mammoths had probably stood on the very rocks as I did. However, I didn't have the slightest clue about this fact when I visited the Yukon.
All I knew about the place was its association with the Klondike Gold Rush of the late nineteenth century. The gold rush, on which the tourism industry of Dawson City currently thrives, is no doubt a landmark event in the region's recent history and inspired Charlie Chaplin's famous movie, The Gold Rush, but equally interesting is the history of the place during the last ice age which ended some 10,000 years ago. Continue reading How much pre-trip research you should do →