Tag: Ubud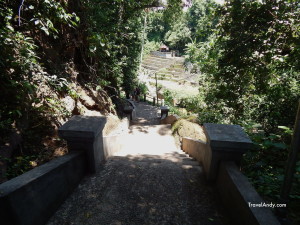 There were two local guides in the water helping visitors cross a narrow and waist-deep part of the river. It had been raining and the current was very strong — practically impossible for anyone to cross the stretch without help, especially when you have bags with you. The four of us stood there and wished we had hired a guide at the entrance.
The previous evening, I had met Meri at 9 Angels in Ubud, Bali,  and it was she who told me about Hidden Canyon.
"I went there this morning with people from my hostel and it was great fun. Because of the rain over the past few days. parts of it were deep waist-deep and we had to swim through. It was so exciting," she had said. Continue reading Hidden Canyon: Quite an adventure near Ubud, Bali →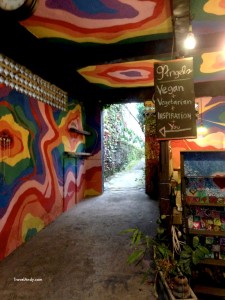 No one noticed when the music stopped.
The evening rain splattering on the tarpaulin above and through the leafy canopy on the tables set outside had its own music.
By the side of the piano, purple lights reflecting on the dried grass mound reminded me of the film Avatar. As the minutes passed, scores of the bugs we call Ui Poka in Bengali — a flying insect of the termite family — flew to the lights under the tarpaulin and outside. In ten minutes, there were hundreds of them at both the places. Continue reading If you're in Ubud, Bali, go to 9 Angels →

The two of us had hired a scooter and were headed to Michi Retreat Village situated a few kilometres from Ubud, by far my favourite among the places I have been to in Bali.
Esther, a Dutch solo traveller I'd met on the road, was riding pillion and checking directions on the phone and telling me which way to go. Between her not-too-confident English and my non-existent Dutch skills, communication was often a problem, but we managed somehow. Finally, after one or two wrong turns, we found a sign saying "Michi" with an arrow pointing to an alley to the left of the road. Continue reading Michi resort near Ubud in Bali is a weird place →