Tag: Fresh Air Cinema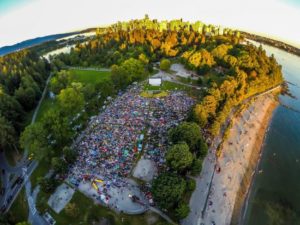 July 10 (TravelAndy): Shake out your favourite outdoor blanket and start planning what to bring in your picnic basket because one of the most hotly anticipated events of the summer is coming back to Vancouver this July and August!
Every Tuesday night during the summer, free outdoor movies are screened in the picturesque setting of Stanley Park. Thousands of people flock to Ceperly Meadows (near second beach pool) to gather together, munch on some popcorn, and enjoy the experience of watching a classic movie under the stars on a four-story high inflatable screen.
The schedule for the 2018 outdoor movies in Stanley Park has been released, and it's full of family-friendly flicks, classic comedies, and more… Check out what's in store for the 2018 summer season every Tuesday till August 21st in the list below: Continue reading Enjoy free outdoor movies at Stanley Park, Vancouver →