Tag: Third connection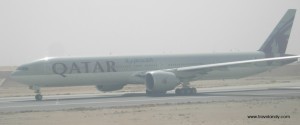 May 2 (TravelAndy): Qatar Airways has announced that from May 7, 2017, the airline will operate its third daily non-stop flight from Doha's Hamad International Airport to Bali's Denpasar.
The new flight will depart from Doha at 17.45 and reach Denpasar ar 08.10 the next day. On its return, the flight will leave Denpasar at 09.30 and reach Doha at 14.05.
"The start of triple daily non-stop services from Doha to Bali Denpasar offers passengers from our global network even greater access to this popular leisure destination with smooth international transfers and a variety of times to suit their own schedules," said Akbar Al Baker, group chief executive, Qatar Airways. Continue reading Qatar Airways to fly third nonstop Doha-Bali flight →