Tag: Dirk Hartog Island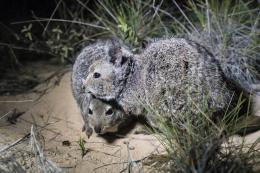 September 15 (TravelAndy): More than 20 hare-wallabies have been released onto Dirk Hartog Island, Western Australia's biggest island, as part of a trial to help improve their conservation status.
A total of 12 banded hare-wallabies and 12 rufous hare-wallabies were captured by staff from the Department of Biodiversity, Conservation and Attractions from nearby Bernier and Dorre islands. They were released in the southern part of Dirk Hartog Island National Park following intensive baiting, trapping and monitoring of feral cats over the past three years.
The translocation is part of stage one of the Dirk Hartog Island National Park Ecological Restoration Project (Return to 1616). Continue reading Hare-wallabies introduced to Dirk Hartog island →