Watch a movie at a morgue in Vancouver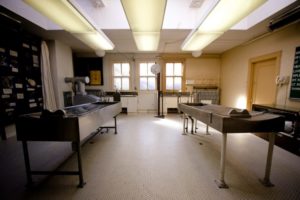 October 5 (TravelAndy): Fancy watching a movie at the morgue? Here's your chance.
Vancouver Police Museum and Archives is back this year with its monthly movie screenings at the Old City Morgue.
"Are you ready to cosy up by our shiny morgue drawers, right outside the original autopsy suite, just one floor above the abandoned laboratory to watch a movie with us? The Police Museum is taking you behind the wheel in our monthly movie screenings, held on the second Tuesday of the month," the event description on the museum website reads. 
There are some classics, some comedy, some scary, a little love, but most of all – a whole lot of cars!
Doors open at 6:30pm and movies start at 7:00pm. Tickets are CAD10.00 and can be booked on the museum's official website.
Schedule:
October 9: The Hitcher 
November 13: Drive 
December 11: The Italian Job (original 1969 version)
January 8: Mad Max (original 1979 version) 
February 12: Two for the Road 
March 12: Thelma and Louise 
April 9: Traffic
The Vancouver Police Museum and Archives is an independent museum run by the Vancouver Police Historical Society, a registered charity.
Emirates starts Dubai-Edinburgh flight
|
Funds for rural tourism infrastructure in Scotland