Tag: popular culture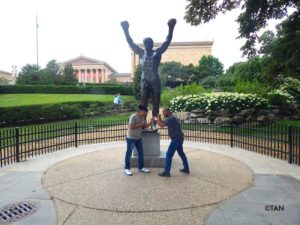 Only yesterday, I noticed a friend posting pictures of herself in Philadelphia. I got really excited and asked her if she would be making the pilgrimage up the famous Rocky Steps.
"Why?" she asked. She obviously had no clue about Sylvester Stallone's Rocky film franchise that had a fan base only a few others could boast of. It reminded me of the time I was in the city.
Being a fan, I, obviously, had to see the Rocky steps. The friend I was staying with went along. He, much like the one who was in Philly yesterday, had not seen a single Rocky film and had no clue about how much it had become part of popular culture.  Continue reading Not-a-fan at a fan Mecca →